We partner with suppliers who share our dedication to utilizing the best practices in human rights, labor rights and workplace safety. Our commitment to global human and labor rights and to ensuring that our products are made in safe and responsible factories is aligned with UN Sustainable Development Goals 1 and 8.
To improve transparency and achieve full accountability, A&F Co. communicates with all vendors on our company's transparency expectations during audits and makes clear the company is prepared to terminate relationships with vendors if violations are found. This is our way of ensuring that people in our supply chain are treated with dignity and respect as we aggressively work with our vendors to prevent instances of child labor, discrimination and pay discrepancies.
Goals
Continue 100% Tier 1 and logoed suppliers participate in A&F's social audit program
100% laundries and in-scope fabric mills (representing at least 80% of fabric production) complete Higg Index FSLM or SLCP
We work together to ensure factory meets company standards.
Sustainability
All business partners are contractually required to adhere to our Vendor Code of Conduct.
Sourcing
Subcontractors to the factories are included in this process.
Quality Assurance
Before production, a factory must go through a rigorous Quality Assurance inspection.
Social Audit
Initial social audit takes place prior to production.
Third Party Audits
A&F Co. uses third party monitoring firms to conduct its social audit. These auditors are fluent in local languages and knowledgeable of local laws and regulations. Auditors visit our partner factories annually or biennially and administer a full audit with every visit. Certain high-risk factories or new facilities may receive more frequent or unannounced audits. To maintain the integrity of the audit, the Company does not provide the audit date to the factories ahead of time. However, to ensure the necessary personnel is available and the documentation can be gathered in time, we do offer a two-week window during which the audit will occur.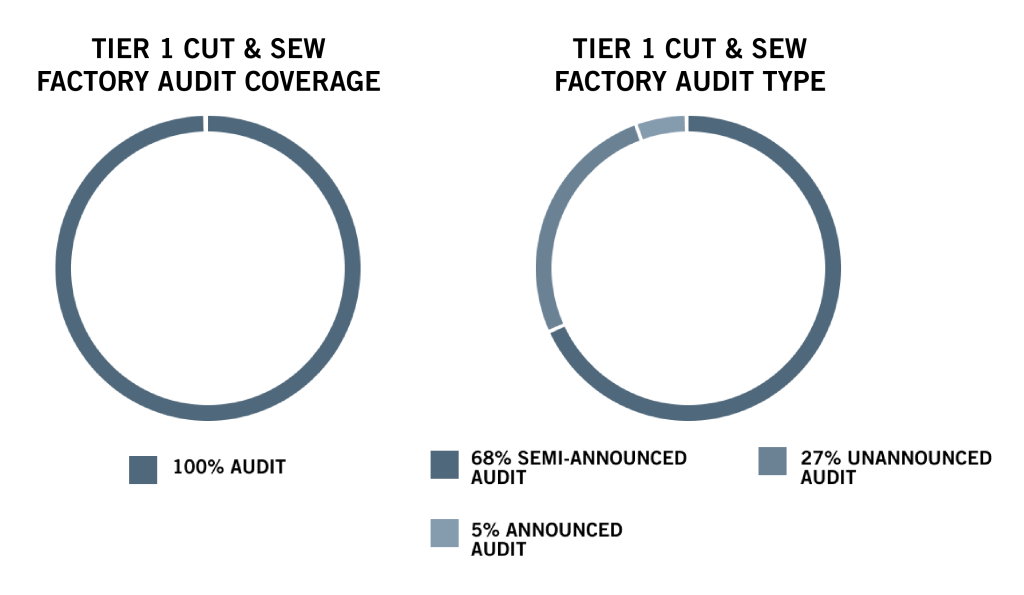 Our Tier 1 Factory List (updated annually)
Pre-Audit Steps:
A&F Co. requests audit from third-party firm
Monitoring firm contacts factory directly

Firm provides two-week window when audit will occur

Factory signs appointment letter to confirm audit
Factory begins preparing documentation
Day-of Steps:
Open Meeting
Focus: purpose and procedure of audit and required documentation
Document Review
Focus: payroll, time records, legal documents, production records and purchase orders
Health & Safety Evaluation
Focus: factory tour
Employee Interviews
Focus: private conversations
Closing Meeting
Focus: findings and Corrective Action Plan (CAP)
If any issues are uncovered during an audit, the factory must take immediate steps to correct the problem. This begins with creating a corrective action plan within 14-30 days.
Next Steps: Check out Continuous Improvement
Auditing is not the only focus of our company's engagement with our supply chain partners. A&F Co. has and continues to undertake a variety of social, environmental and capacity building programs to promote worker well-being, health and safety, environmental improvements, and more. Further information on these impact areas can be found here: Social Impact and Impact Areas.
Social & Labor Convergence Program(SLCP)/Higg Facility & Labor Module (Higg FSLM)
The Social & Labor Convergence Program (SLCP) provides a common tool for the apparel industry to capture accurate data about working conditions in supply chains. The initiative replaces the need for multiple social audits to reduce audit fatigue.
The Converged Assessment Framework (CAF) is the tool utilized to measure working conditions in factories across nine key areas: recruitment and hiring, working hours, wages and benefits, employee treatment, employee involvement, health and safety, termination, management systems and empowering people and communities.
SLCP is collaborating with Better Work to reduce audit duplication, facilitate data sharing, and promote compliance with national laws and international standards. Better Work is introducing data sharing via SLCP progressively in Better Work countries. All A&F Co. factories are required to share their Better Work assessment data via the SLCP. Currently, Better Work uses the data-sharing via SLCP in Bangladesh, Indonesia, and Vietnam. Implementation in Cambodia is expected soon.
For non-Better Work factories, A&F Co. leverages the Sustainable Apparel Coalition's (SAC) Facility Social & Labor Module (Higg FSLM), which uses the CAF as the assessment backbone, to measure and improve social and labor performance. Currently the Higg FSLM is implemented in our factories in India and expansion of this program to other countries is expected.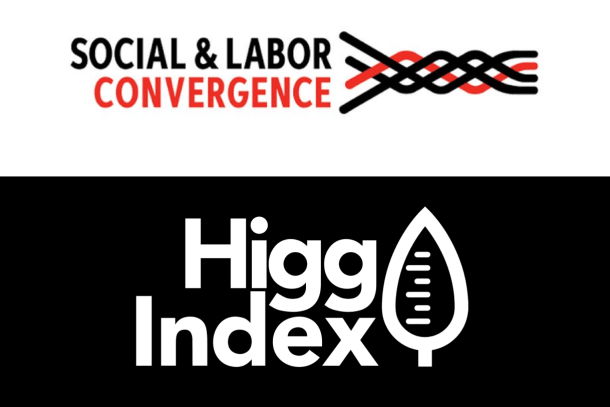 Better Work
As a Buyer Partner of Better Work, A&F Co. engages with both the Better Work Programme and national stakeholders to drive change through assessment, advisory and training services to registered suppliers. Better Work offers suppliers a transparent and credible way to collect information about compliance and improvements at a given facility.
All A&F Co factories eligible to participate in the Better Work program in Bangladesh, Cambodia, Indonesia and Vietnam are required to join. Today, over 100 factories participate in the Better Work program.
Increasing Transparency
The apparel supply chain is complex with multiple suppliers, facility types, geographic locations and distribution networks. The process of transforming raw materials into finished goods involves as series of "tiers" designated by the production performed at each phase. A&F Co. defines supply chain tiers as follows:
Tier 4
Tier 3
Tier 2
Tier 1

Spinner, Raw Material Extraction

Fabric Mill

Laundry, Print, Embroidery, Trim

Cut & Sew
Cultivation and extraction of raw materials from the earth, plants or animals
Knitting and weaving of textiles
Production process and finishing (e.g. embroidery, printing, garment dyeing, washing, etc.)
Cutting, sewing, stitching, packaging
Yarn production (extrusion, spinning, etc.)
Conversion of wood products into pulp
Fabric dyeing, bleaching, finishing, washing, embroidering
Manufacturing of trims (e.g. labels, zippers, etc.)

Leather preparation






These dynamic networks present many challenges to brands and retailers. Yet, there is increasing demand for transparency – or the expanded visibility into the various levels of a company's supply chain – by today's consumers, stockholders and other stakeholders to know where products and their inputs are being made. In addition, this increased visibility allows A&F Co. to engage more effectively with our supply chain partners and rapidly adapt together to changing business environments.
While A&F Co. does not own the production of products we sell, we work closely with our agents and vendors to increase our supply chain transparency and provide this information to the public. To initiate this work, in 2015, A&F Co. made a conscious shift to begin auditing more of our Tier 2 suppliers. We began by communicating our policy of full transparency in our supply chains to vendors, and asked vendors to provide all subcontractor information to A&F Co. We recognized the need for increased transparency in Tier 2 and continued to expand our audit reach. It is through these long term, collaborative relationships with our agents and vendors that A&F Co. is able to gather this information.
Since 2018, A&F Co. has published the list of 100% of its Tier 1 suppliers on an annual basis. As noted above, our Tier 1 suppliers are audited prior to production and on a regular basis in order confirm compliance with our company's Vendor Code of Conduct.
In 2023, A&F Co. enhanced its transparency and published 100% of its Tier 1, 90% of its fabric mill and 100% of personal care filler locations with the following information on an annual basis: parent (vendor/agent), factory name, factory street address, factory city and country, production category, number of workers, percentage of workers by gender and percentage migrant workers. See the list here.
Hire a Partner Program
One of the initiatives A&F Co. has undertaken to gain greater transparency, visibility and insights into its supply chain, is a digital survey to key suppliers via our partner, Hireapartner (HAP). In this project, HAP provided training and tools to our vendors to complete the survey to allow a greater ability to trace produce through the supply chain and comply with evolving due diligence laws. This helps A&F Co. achieve a safer supply chain system that benefits people and the planet, and the data helps us be more precise in our response to supply chain challenges.
Similar to our transparency work, A&F Co. is also increasing its product traceability efforts. For further information on product traceability, visit here.
Site Visits
A&F Co. employs an international team based out of Hong Kong to support our factory base through site visits. The team meets with factory management and the individual responsible for factory compliance. Together they review documents, tour the factory and share recommendations. After the visit, they set goals and a timeline for achieving them. These visits go well beyond audits.
Our Hong Kong team performed 103 visits in 2019 related to capacity building programs, remediation plan implementation, shadow audits, Higg Facility Environment Module audits and transparency:
HERHealth
Shadow Audit
Redemptions
Higg Index
Transparency in China